---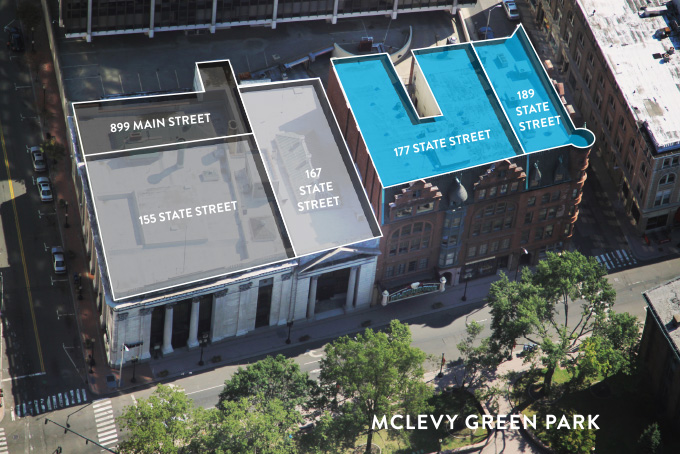 ---
Directly in the heart of downtown rests a row of historic buildings overlooking McLevy Green that have been transformed into a premier mixed-use facility featuring entertainment venues (Haus and The Stress Factory Comedy Club), unique ground level office/retail space, and 32 new residential apartment units. McLevy Square is surrounded by the Bridgeport Train Station, People's United Bank headquarters, Webster Bank Arena, and Housatonic Community College. The total project includes:
899 Main Street / Office Space
The new 899 Main is a one-of-a-kind commercial space featuring 33' cathedral-style ceilings and decorative architectural features. The new main entrance to the space is located directly across from the People's United Bank Headquarters, which is occupied by over 1,000 employees.
---
167 State Street / The Stress Factory Comedy Club
The well-known, New Jersey-based club "The Stress Factory" reactivated this historic theater into a premier entertainment venue featuring top comedic performances along with food and beverage services.
---
155 State Street / Haus Restaurant & Beer Hall
The former historic bank hall was transformed into a unique and highly popular German beer hall.
---
177 & 189 State Street / Apartments & Retail
The ground floors of these historic buildings offer unique commercial retail/ office spaces overlooking McLevy Green. The floors above were converted into 32 brand new loft-style apartments which are available for lease
---
---
For More Information:
For additional information about this property, its features and availabilities, please contact:
Scott Raasch, Director of Business Development
T: 203.286.5813 | sraasch@forstonecapital.com