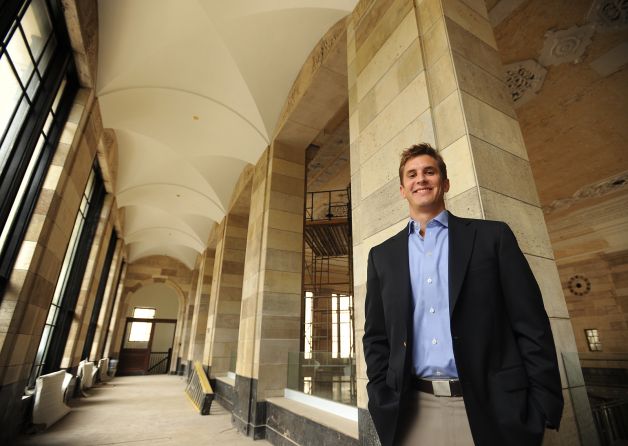 Scott Raasch, director of business development for Forstone Capital, in the lobby of the former Mechanics & Farmers building on Main Street in downtown Bridgeport, Conn. on Wednesday, September 24, 2014. The company is currently developing several projects in the city. Photo: Brian A. Pounds
---
As the economy slowly improves, more commercial real estate executives are looking to develop assets and deploy capital in secondary markets to generate returns, and the Greater Danbury market is providing opportunities.
Of the 100 senior commercial real estate executives surveyed in a 2014 Commercial Real Estate Outlook Survey conducted by tax advisory firm KPMG, 68 percent expect to increase capital spending in 2014, up from 60 percent in 2013.
Interest in the Danbury area is increasing, according to Felix Charney, president and CEO of Fairfield-based Summit Development, but available properties are at a premium.
Charney faced stiff competition when he sought to purchase Lee Farm, the 215,000 square-foot office complex in Danbury last year.
"There was an investment fund from White Plains, N.Y., that put it under contract, but they dropped out," said Charney, who has developed more than 3.75 million square feet of commercial space and more than 950 residential units.
`Next ring'
When Summit and its partner, The Grossman Cos., of Quincy, Mass., bought Lee Farm in April 2013 for $16.9 million, a third of the building was vacant.
"We've leased 50,000 of the 71,000 square feet. We'll soon be at 95 percent occupancy," he said, adding that Danbury commercial properties are becoming attractive to prospective investors as available lower Fairfield County properties are snapped up. "Danbury is the next ring of the circle. Coastal Fairfield County is expensive, so people move to the north or east."
Charney has learned to see potential in under-valued or distressed properties that require adaptive re-use of a building or brownfield site.
"I'm in the business of manufacturing land. That's a term I use all of the time. I have to buy tainted assets," he said. "We're land-constricted (in Fairfield County) and have restrictive zoning. As a result, land prices are high, and it ultimately curtails supply."
While the KPMG survey is revealing, because it is on a national scale it does not tell the whole story about commercial real estate investment at the regional level, according to Charney.
"You can't apply macro-economics to real estate," he said, because commercial real estate is local.
`Very limited supply'
Like Charney, Joe Wrinn, a broker with Goodfellow Ashmore, a commercial real estate firm in Danbury, has followed the area market for nearly 25 years, said the commercial real estate market in northern Fairfield County is constricted.
"There's only so much institutional-grade investment property to go around," he said. "I always have calls from people wanting to get into the investment arena. The demand for those income-producing properties is always high -- starting at $1 million. There's an awful lot of demand, but very limited supply."
Most owners of prime commercial property in the Danbury area prefer to retain their holdings because they are income producers, Wrinn said.
"Where else are they going to put their money," he asked.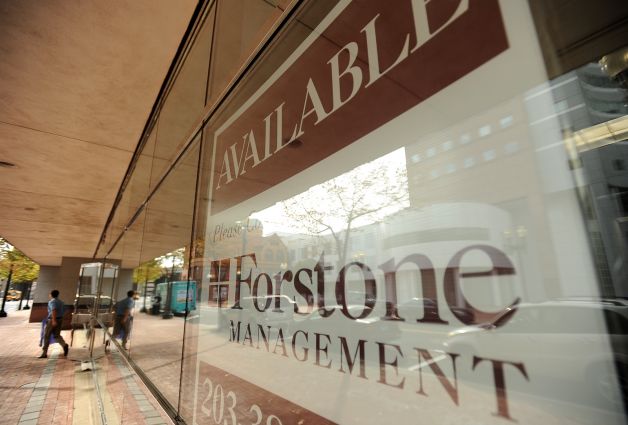 855 Main Street in downtown Bridgeport, Conn. is one of several city buildings being developed by Forstone Capital. Photo: Brian A. Pounds
---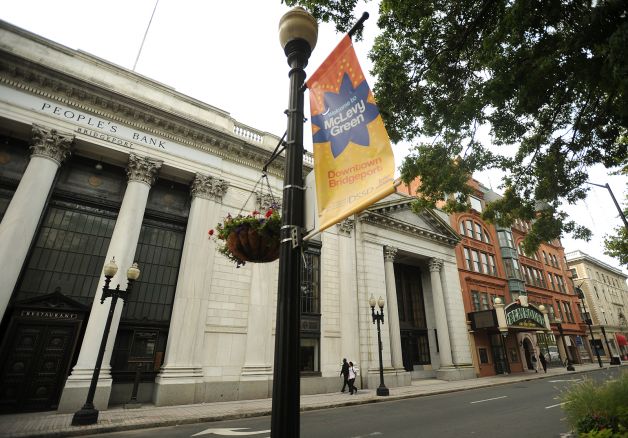 McLevy Square the block of buildings on State Street in downtown Bridgeport, Conn. across from McLevy Green, is scheduled for development by Forstone Capital. Photo: Brian A. Pounds
---
The limited supply of available Class A office space in the county is causing investors to look a Class B office properties, said Mary Grande, a Stamford-based partner in KPMG's Metro New York Financial Services tax practice.
"Leasing activity has improved in Fairfield County," she said, "and there is a shift toward foreign investment in the market."
Much of the interest can be attributed to the region's proximity to New York City where premium office space in Manhattan is reaching capacity, she said.
The KPMG study shows that 80 percent of executives expect foreign investment in U.S. real estate to increase. Roughly 40 percent of those respondents predict non-U.S. investment to climb by 6 to 10 percent, while 8 percent expect an increase of more than 20 percent.
"We've seen a substantial amount of Chinese capital deployed in 2014, and we expect that trend to continue as real estate funds, large institutions and foreign investors look for direct and indirect investment in real estate equity and real estate debt because of the attractive yields," said Phil Marra, leader of KPMG's National Real Estate Funds.
When asked to identify regions with the best real estate investment opportunities, almost half the respondents in the KPMG study chose the Southeast (48 percent, up from 28 percent in 2013). The Northeast ranked fourth, behind the Southwest and Midwest with 30 percent of participants saying it offered the best real estate investment opportunities -- down from 36 percent in 2013.
When asked which types of properties their company would be looking to acquire or invest in, Class A assets in primary markets led the list, followed by development opportunities, distressed assets, Class A assets in secondary or tertiary markets and Class B/C assets.